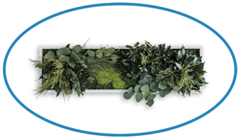 Preserved plants are plants and flowers that have been 100% preserved by using natural techniques. The preservation liquid replaces the sap and water of the plant species used. This method preserves the plants freshness, keeping its natural beauty with no maintenance required. Plant walls have become a rapidly fast-growing trend in many offices of today's leading businesses from all over the world. Green walls contribute numerous advantages to its surroundings. The green wall system helps to enhance any working environment with its vibrant natural green coloured plants which are hand-picked and cultivated with extreme care and respect for the environment. It also improves the company's brand image and can have positive effects on employee morale and the reduction of stress through its calming qualities. A variety of the plant walls for offices and homes we have also features natural acoustic soundproofing qualities. Our range of plant walls and frames are naturally preserved using 100% plant-based and biodegradable preservation formula, still giving you a 100% natural product whilst offering less hassle compared to living wall systems.
Choose from a variety of plants for your frames green wall façade system. A wide range of different moss types are offered including Lichen, Ball Moss, Provence Moss, Flat moss and Iceland moss which all adds different effects to the green wall system. A selection of wild plants is also in all shades of the rainforest to add a foliage feeling to the green walls, all while giving your space that exotic forest atmosphere feeling. The wall systems are fully customisable to cater for your exact preference and needs.
We source our different types of green walls and frames from some of Europe's leading manufacturers who focus on producing 100% naturally preserved plant products. The companies are greatly known for their highly innovative designs which are used in many well-known offices around the globe. The main advantage of using preserved plants is it requires zero maintenance like watering, pruning or sunlight while still boasting the highest level of vibrant colours that a living plant offers. A cost-effective solution as it keeps its form, texture and colour for many years.