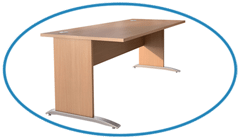 Desks are a central component in a modern workspace. At Radius Office Furniture we have adjustable sit-stand desks, modern modular workstations, reception counters and unique executive desks. Our desks designs include radial, wave and straight desks that can be arranged to suit the requirements of your space. You can choose desks that fit into your office design by selecting from up to 16-panel colours and 4 metal paint colours in any combination you want. Our desks also have 4 different types of legs, including cantilever, A-line, closed legs, and panels. They come with inbuilt or attachable desk screens, modesty panels and flexible cable management systems. And if you want an even bigger upgrade to your desk, choose from our additional desk accessories, like power modules, cable baskets and spines, CPU holders, monitor arms and desk-mounted screens, for a modern and organised office desk.
Do you want a classic design that never goes out fashion? Browse our range of straight desks! For a modern look opt for radial or wave desks with ergonomically designed worktops. Combine technology and well-being with our adjustable desks! Did you know that the ergonomic benefits of a sit-stand desk include a better posture and a decrease in back pain? At Radius Office Furniture we have something for every taste! We have solid wood executive desks with finishes of beech, oak or maple, contemporary office desks that combine a stylish design and the latest technology, mobile workstations and reception desks.
All our desks have impact-resistant edges and scratch resistant surfaces. We guarantee that you are making a great and durable investment! We have something for every budget, whether you're looking for a cheap corner desk or an ergonomic standing desks. Also, low prices don't mean low quality! Our office equipment suppliers include some of Europe's top manufacturers, including Trexus, Sonix, Oplan, Ashford, Quando, Steelcase, Herman Miller, Adroit, Ergotron, Buronomic and more! Browse our website for our full range of office desks.