Space Planning & Office Design
The space we work in affects the quality of the work we produce. This means comprehensive space planning is essential for every business. Arranging an office's layout is not as simple as placing desks and chairs.
To get the best from your staff you need to maximise space, increase natural light, offer acoustic control and create zones that best suit your requirements, whether it be breakout areas or collaboration spots. A thought-out workspace inspires creative and collaborative thinking in your team, as well as impressing potential clients and prospective employees. It accounts for staff health and wellbeing and creates a dynamic space around you.
Step 4 Ordering & Installation
It is important to us that each aspect of this process is stress-free for you, as soon as you have chosen a plan we ensure there is a quick turnaround. Our team is experienced in project management and will order the furniture, organise delivery and installation.
Our professional installation crew are experts in all our ranges and will set up the office furniture. Once the project is finished, we will follow up with you to make sure you're satisfied with the final product.
Step 3 Pricing & Budget Options
We developed a software that makes it easy for our clients to understand how pricing works. To ensure our clients can choose the best option for them, this system displays a quote with several options.
Our programme is easy to read and use, as well as being interactive with the ability to leave feedback and easily access finishes and brochures.
Step 2 Layout Concept & Proposal
We design a space based on your requirements and our proposal is presented in either a 2D or 3D PDF format. This package includes a concept board with pictures of the furniture we recommend alongside a proposed colour scheme.
Our layout concept will help you reach the targets you specified and will also help to develop a flow and aesthetic appeal.
Step 1 Initial Consultation
To achieve a tailored service, we meet with you to establish what you need from your office space. A member of our skilled team comes to assess your office where we will take any necessary measurements.
As each workforce is composed of individuals and each business works differently, we will assess the space you currently have, observe how you work, note what's important for your team and create a design based on that.
2D and 3D Layouts
Layouts are the initial stage of our design process. They help us and you understand how your space can be used and what can fit in it. We often provide several options of the 2D or 3D layout keeping the communication open to hear your thoughts.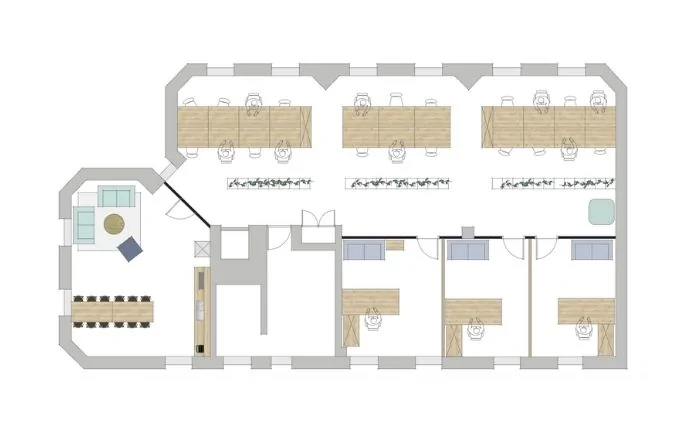 Renders
We are creating three-dimensional renders to show the design intent. These show our design in a full 3D light and are expressions of the vision we had for your space. This is still an open dialogue stage so all the feedback is more than welcome.
Concept Boards
Concept boards are showing the general theme we had in mind. They include a colour scheme and furniture items picked to create the feel we intended. This helps to show the general style, textures and colours we are planning to use in the space.
Completed Projects
We have worked on various projects sizing from small to large and also with different-type clients from small companies to big multinationals. No project is too small or too big for us and we always do our best to meet your needs and budget, deliver within the timeframe and provide exceptional customer experience.
Our Projects