The structure of an office lays the groundwork for how employees will function. Improving your office layout isn't just about aesthetics, it will improve productivity, the office culture, and the impression clientele has of your business. Every organisation has individuals with different needs and goals, workspace analysis allows you to orientate the layout to meet everyone's requirements.
View our Process
We always start with learning how your team works and what needs to be done in order to improve efficiency. Our in-depth analysis include following areas:
Space analysis
A member of our team comes to your office to analyse the current setup. We examine how team members conduct business, interact and communicate. We also note the areas used the most, the areas used infrequently, and consider what each space is used for. We account for your existing office furniture and identify any problems such as noisy areas, cramped seating arrangements, or poor flow.
Defining needs
Workspace analysis is a collaborative process, we will sit down with you to discuss why you need to change your current layout and establish what you want. We ensure this is a layout that will benefit you in the long-term by listening to your employees' feedback on what would benefit them and improve their performance. The most important question to ask yourself is what do you need from your team. If you want to boost creativity, we'll include collaboration spaces or if you need a quieter open plan for staff to speak to clients, we can discuss acoustic solutions.
New layout produced
Combining what we have observed and what you have detailed as your needs, we come up with a solution and new layout for your office. We will use your current office furniture, if possible, and your current office to create a brand new layout that maximises space and helps you achieve your targets.
Acoustics
Open plan offices offer many benefits but they can lead to noisy spaces that impact productivity and the ability to have private conversations in person or on the phone.
We acoustically treat the office to reduce noise pollution which will improve productivity and create private zones. With our wide range of acoustic solutions we will find the best fit for your needs.
Ergonomics
Employee health influences how efficient and prolific their output is, ergonomic furniture will reduce office injuries and help protect their health.
We will make an ergonomic assessment for each employee, if needed, to determine how improvements can be made and to ensure you are armed with a productive staff. We will advise you on what ergonomic options to choose and present solutions that can be added to your existing furniture.
Cable Management
Cable management is a vital aspect of every office. Cables that are unorganised result in a messy environment, taking up essential space and making it difficult to reach optimal productivity. Even more important, they can be a safety risk.
We ensure your office is fitted with cable management solutions that fit seamlessly onto desks or the floor, protecting your cables and staff.
Storage
Both personal and general office storage will be assessed to determine what type and how much storage is needed. We will ensure the storage keeps the area clutter-free while also not taking up too much space itself.
We will present you with a wide range of modern storage choices, both for personal use and office supplies. We will prioritise choosing a practical solution that is also design orientated to suit your new office.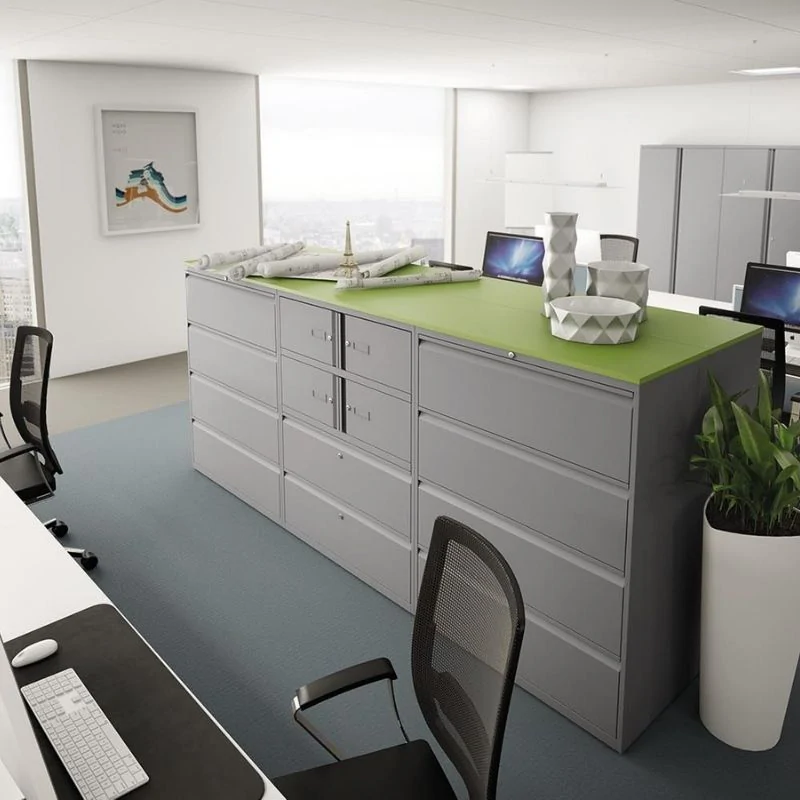 Meeting & Breakout Areas
Offices aren't just spaces to work in, it's important to have areas for staff to socialise and relax in. Do you have a breakout area set up, or do you have one that needs refreshing? Some of the best ideas and projects stem from teamwork, therefore an office environment that is conducive to collaboration is worthwhile.
Do you have a private space for meetings which encourages creativity and doesn't disturb the rest of the office?
General Layout
We will assess how many people your office can comfortably sit. By creating a new layout we will find ways to use the space more efficiently and increase seating without compromising on comfort or other important areas in the office. It is crucial for each person to feel comfortable in their workspace and that includes having enough space to work uninterruptedly, fresh air at the right temperature, storage space and no noise distractions.